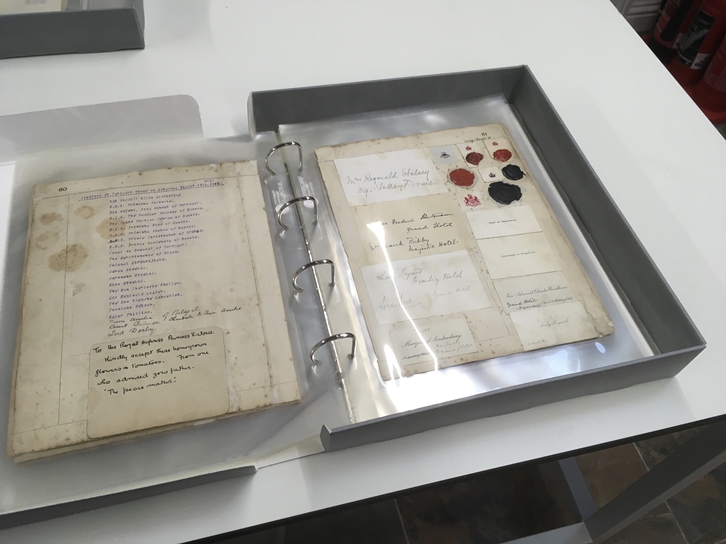 Since it's foundation thirty years ago the National Manuscripts Conservation Trust (NMCT) have helped to fund the conservation of many of the countries unique and historically important records and documents. We have been fortunate to be able to carry out just a few of the projects they have contributed towards. These include the oldest known, printed copy of the Periodic Table, housed at the University of St Andrews and a large archive of designs for early fairground rides by Orton & Spooner Ltd saved by the National Fairground & Circus Archive. Due to the expected budget constraints on institutions as a result of the Covid-19 lockdown, we hope that grants from the NMCT and other charitable trusts will provide an opportunity to continue to preserve such important collections.
In 2017, one of our local museums, the Pump Room Museum, Harrogate, acquired at auction, along with other related items, a thick and well-used cuttings book that had belonged to the Allen family. Mr and Mrs Allen ran a boarding house, Cathcart House, in Harrogate's boom years as one of the most popular spas in Europe in the late nineteenth and early twentieth centuries. Their most prestigious guest was Princess Alix of Hesse, in May 1894, who was recently engaged to Tsarevich Nicholas of Russia. Princess Alix asked to become godmother to two children, the Allen twins, who were born to her landlady during her stay. She took her duty as godmother seriously, sending gifts, including items made by Carl Fabergé. Correspondence from Princess Alix (later Tsarina of Russia), notes from Fabergé, newspaper cuttings and photographs were meticulously added to the cuttings book over several decades.
Gathered in the album were later press cuttings as the local newspapers took an interest in the twin's correspondence with the Tsarina until her murder by Bolsheviks, along with her husband and children, in 1917. It contains further clippings as family members went to war as well as later mementoes of overseas travel, many adding additional bulk to the binding and adding to the pressure on the spine. It was in a very fragile state and it was too damaged to study safely. The boards had become detached and the binding was split. The album paper was of low quality and many of the pages were badly torn. Some of the newspaper clippings had been adhered with an acidic adhesive and were discoloured and brittle. Further handling was likely to cause losses. Assistant Curator at Harrogate Museums & Arts, Nicola Baxter, commissioned an initial condition report and treatment proposal from Artworks Conservation Ltd which was used for a successful grant application to the NMCT.
The album was photographed before treatment to record the structure before being unbound. As it was unbound cards and folded items that had been pasted into the structure were removed so they could be opened out fully and digitised. Some damaged items could be removed and repaired before re-attaching, but the most brittle newspaper cuttings, which were probably adhered with PVA were too fragile to remove. These pages were washed and deacidified with calcium bicarbonate before supporting tears with Japanese, kozo-fibre paper and wheat starch paste. Some of the album pages had losses which required reconstruction with similar repair papers. After the conservation work was completed all the pages and their contents were digitised by the reprographic team at North Yorkshire Record Office. Rather than re-binding the album and risk the weak paper tearing again, the pages were placed individually in custom-sized, clear polyester sleeves which were held in their original order by ring binders fitted within archival, acid-free boxes from CXD Ltd. There were some items, including photographs, which had been loose in the album, but were now safely housed in the polyester sleeves. Pages and artifacts can be removed and temporarily placed on display. The cover boards and spine were repaired and stored with a false, text block in a four-flap, archival enclosure.
With the conservation work completed and the album returned to the museum, it is now possible to safely handle and study its contents. It has preserved a unique record of a golden age in Harrogate when it was the destination for European royalty and the wealthy seeking cures from the sulphurous spring water and will hopefully be an important part of the study and display at the Pump Room Museum and Mercer Art Gallery.
Acknowledgements: Staff at Harrogate Museums & Arts, National Manuscripts Conservation Trust, Catriona Whiteside (Santander Graduate Intern at Artworks Conservation Ltd), Rosie Shepley (Paper Conservator, Artworks Conservation Ltd), Reprographic Service at North Yorkshire Record Office, Northallerton, Emma Lloyd-Jones ACR, Book Conservator
National Manuscripts Conservation Trust
Richard Hawkes ACR