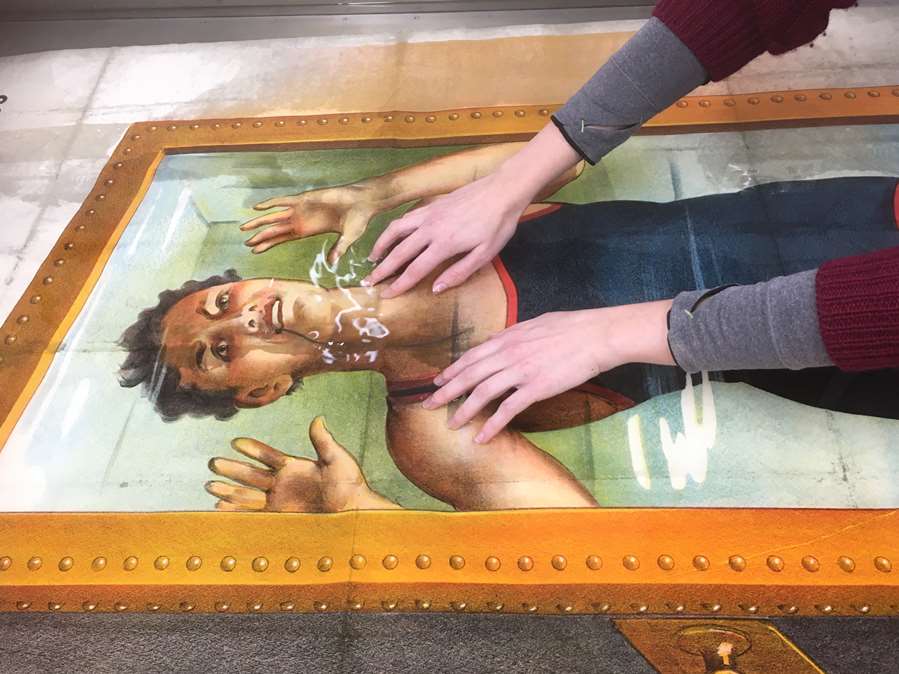 Do you have a conservation project in mind for an individual or group of artworks, a manuscript or archive from your collection? Finding the funding to make this happen is likely to be a hurdle. However, there is currently a range of generous grants available to many UK museums, galleries, institutions and registered charities. There are also many opportunities now for crowd-funding through reaching people via dedicated websites.
At Artworks Conservation, we undertake many projects that are fully or part-funded by grant-giving bodies. The studio meets important criteria for this work, by being listed on the Icon Conservation Register since 2004 and led by Icon Accredited Conservator-Restorer, Richard Hawkes. Our spacious, well-equipped and secure studio offers a wide range of conservation treatments for works on paper as well as framing and re-housing solutions, digitisation and creation of replicas for display and handling.
The first step to securing a grant is to obtain a conservation condition report and breakdown of costs from us. This can be combined with a proposal from the curator, archivist or trustees regarding the importance or relevance of the items usually placing particular emphasis on increased understanding or public access. Estimates and reports are often provided by Artworks Conservation free of charge so do contact us to discuss your project info@artworksconservation.co.uk or 01765 676600
Crowd-funding has been used by many museums, archives and organisations to successfully fund 100% of the cost of conservation projects. As well as websites such as Crowdfunder , Art Fund has set up a dedicated website, Art Happens for promoting campaigns to assist with conservation projects. When setting up an on-line campaign to reach a target it can really help to accompany it with a short film introducing the artwork or archive with an appeal or explanation by a curator, archivist or conservator. The Artworks Conservation team can offer experience and assistance with producing professional video content as well as advice on the use of social media for promoting your crowd-funding campaign.
A list of suggested grant-giving bodies
National Heritage Memorial Fund grants are supported by the National Lottery and cover conservation projects for works of fine and decorative art, museum collections, manuscripts and archives. They also cover the making of replicas. They are available to charities, not-for-profit organisations and public bodies. Grants begin at £3,000 up to £10,000 for one year projects. Larger grants can cover projects over several years.
Art Fund Conservation Grants for works of art and objects are available to UK public museums, galleries, historic houses, properties, libraries and archives. They are especially seeking applications from places where there is no in-house conservator. Applications for small grants of up to £15,000 can be made at any time. For the main grants of £15,000 to £50,000 there are five deadlines per year.
National Manuscripts Conservation Trust offer funding to record offices, libraries, local authority institutions, universities, special record repositories and museums to conserve manuscripts, including both bound material and flat archival documents. This can also cover reprography and production of a facsimile.
Recent projects at Artworks Conservation have included an important cuttings book with links to an Imperial family, an early printed and annotated Periodic Table and a large archive of fairground designs. Grants are usually between £2,000 and £10,000 but can be up to £25,000. Application deadlines are 31 March / 30 September
Charles Hayward Foundation offer grants to UK-registered charities, usually between £20,000 and £50,000, for the conservation and preservation of pictures, manuscripts, books and objects for public display, use and interest. The trustees meet to discuss applications four times a year
Idlewild Trust supports conservation of important works of art and objects by providing grants of up to £5,000 to UK Registered Charities, national museums that are UK Publicly Exempt or churches that are Excepted Charities. Application deadlines for 2020 are 13 February / 10 September
AIM Conservation Grant Scheme is supported by The Pilgrim Trust and offer funding to independent museums that meet their criteria. Grants are up to £10,000 and average £5,000. Although welcomed, there is no requirement for partnership funding.
War Memorials Trust is an independent charity offering funding, usually of between 25%-75% of the total cost of a project and up to £5,000, for conservation projects not just of War Memorials but also unique Rolls of Honour created on paper or vellum. Artworks Conservation have treated many of these in recent years and can also arrange for specialist conservation of frames. Application deadlines are 31 March / 31 July / 30 November
National Archives Scoping Grants exclusively focus on the preparation of condition reports for collections and archives. This is an important first step in creating a conservation plan and taking the next step towards fundraising. Funding is up to £3,000. This is offered to museums and other public bodies, including UK Registered Charities and Not for Profit organisations that hold collections
If you would like to discuss any conservation projects or require further details of any of our services then please contact us via info@artworksconservation.co.uk or 01765 676600
Artworks Conservation Ltd, The Chapel, Markington Hall, Markington, nr Harrogate, North Yorkshire, HG3 3PQ