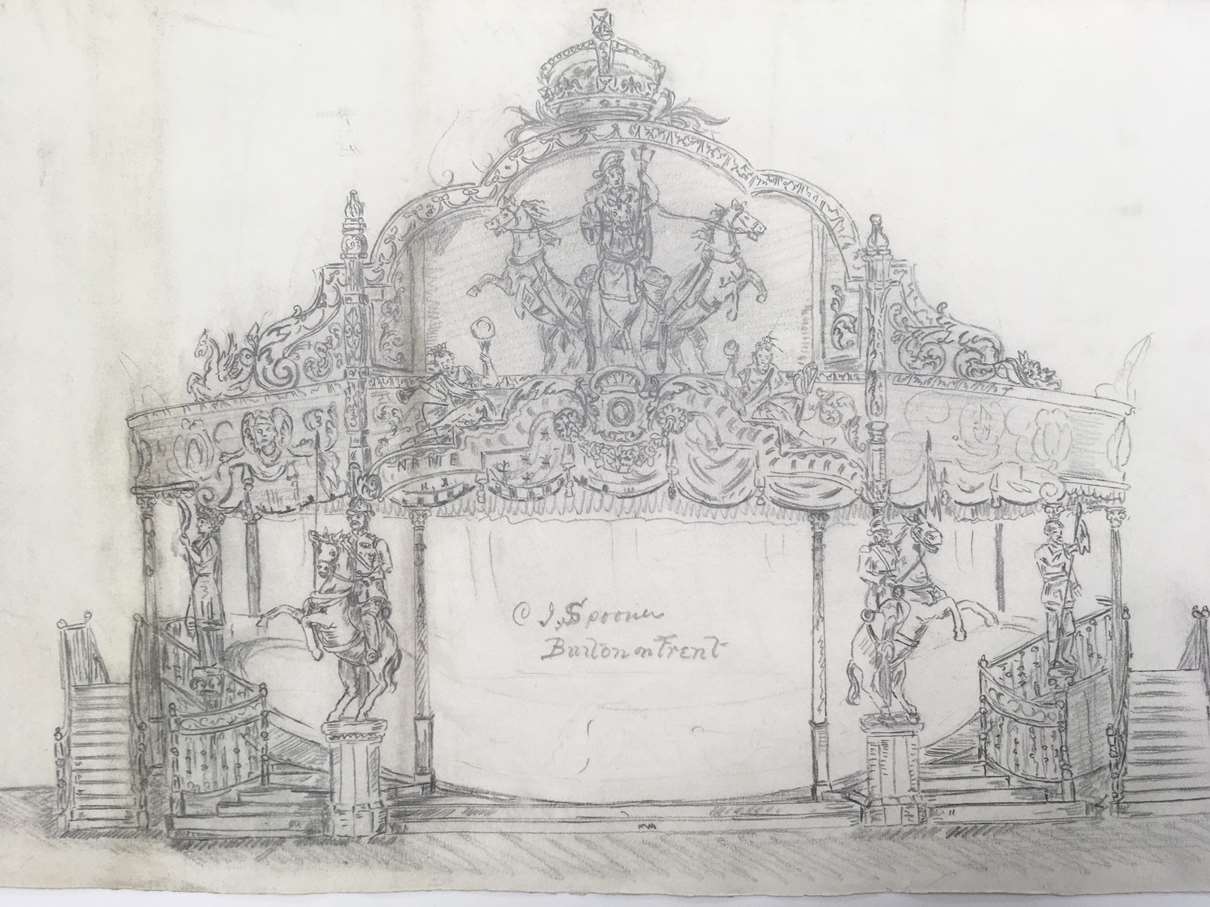 The Orton and Spooner Collection is part of the National Fairground and Circus Archive, housed at the University of Sheffield. Based in Burton upon Trent, the Orton and Spooner Company designed, produced and decorated elaborate rides, shows and wagons from the 1890s until the 1950s. The collection contains many items relating to the company including designs, working drawings and blueprints which provides a fascinating example and insight into the creation of popular entertainment during this era.
Funding received by the Archive from the National Manuscripts Conservation Trust (NMCT) has allowed for the vital conservation of the collection. The conservation is particularly important in advance of the digitisation of the collection which is to take place to allow for further and easier access of the collection.
The designs and drawings are on heavyweight Western papers, tracing or oiled papers and drafting or tracing cloth. A variety of media, inscriptions and annotations are present throughout the collection in pencil, ink, pastels and watercolour.
Conservation treatments have been kept to a remedial level to stabilise each item sufficiently to allow for safe digitisation and to maximise the number of items that could receive conservation from the collection. Boxes and folders were delivered to the studio containing hundreds of items from the collection for treatment to be carried out.
Typical condition problems included heavy areas of surface dirt that had possibly accumulated on the items from their life in a busy workshop. This was often located typically in areas associated with items that have been rolled. There were also spills and stains present along with overall or local areas of discolouration. Many items had tears, losses and weak areas of creasing from folding and handling, some with unsuitable and failing repairs with tapes. Many papers were fragile and brittle, which was particularly the case for the tracing and oiled paper which were very fragile and were therefore not able to be handled safely in their current condition.
The treatments carried out so far include cleaning the surface dirt as much as possible with rubber sponges and brushes. Tears and losses have been repaired, focussing on the tears that made the items most vulnerable and some linings were carried out for very fragmented items. Creases and folds that were obscuring the reading of the media or making the items more vulnerable were reduced using gentle application of an alcohol and water solution and dried with a heated spatula.
These larger scale conservation projects can be made possible through a variety of funding options. We can provide time and cost estimates during the application process and updates and documentation throughout the project for both the funding body and client where necessary.
You can see our previous blog post which gives examples and details of possible funding options for conservation of collections and items including the NMCT.
National Fairground and Circus Archive
Orton & Spooner Collection
National Manuscripts Conservation Trust
Read more about funding opportunities for paper conservation